Dave O'Brien Electrical Services of Preston, Lancashire
I am a Time Served Maintenance and Installation Electrician with over 15 years experience in the trade.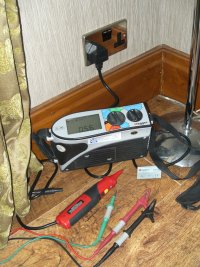 My Qualifications include:
HNC in Electrical and Electronic Engineering'
NVQ Level 2 Electrical Engineering Manufacture
NVQ Level 3 Engineering Maintenance (Electrical)
City & Guilds 236 Electrical Installation Competence Part 2
City & Guilds 238 IIE Wiring Reg's 16th Edition
City & Guilds 2391 Inspection and Testing of electrical Installations
I set up my own business in April 2005, trying to create a friendly reliable service for businesses and home owners.
Using all my previous experience, I started out carrying out mainly small business and domestic electrical work, Pat testing, Inspection and Testing, progressing into larger projects including New Builds and Factory Re-locations.
Previous Job History:
Completed a 3 and a half year electrical apprenticeship at BNFL, Salwick, Preston. Followed by a 2 year contract.
Worked for SSL international in Liverpool for 4 and a half years as Site electrician, looking after fast moving production lines and all site services in a pharmaceutical environment.
Worked for Universal Products Kirkham, as the Night shift Electrician, Looking after the Bottling and filling lines plus all site services.